LowBlow
Member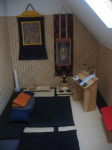 Offline



Joined: 23 Mar 2011
Posts: 226


Localisation: Germany
Posted: 2014-02-06, 08:30

 

   Post subject: Nayashi

---

Justin Senryu wrote:

LowBlow wrote:
Hi Justin,



Justin Senryu wrote:
nowadays people habitually put a breath before a nayashi.



I did not understand this part. This will ruin every phrase with a nayashi in it. If we talk about the same thing. When a nayashi is writen direct behind the note or within a row of notes for accentuation people breath?



Hi LowBlow,
Do you study Kinko Ryu honkyoku? I was specifically talking about Kinko Ryu when making that statement. In this context, whether the phrase is 'ruined' or not depends on how you feel about it. Most Kinko Ryu players would not consider it ruined, because that is how they learned it, and so they feel it is 'correct'. And so, for their schools, it is correct, not ruined. Certainly it is different than not taking the breath. So perhaps we can call it 'changed', rather than 'ruined'. This is a part of the slowing down process of the Kinko Ryu honkyoku over time. They used to be played a lot faster. Actually so did most, if not all of the honkyoku. I can see this clearly at least in Kinko Ryu, Seien Ryu, Shimpo Ryu/Kichiku Ryu, Kimpu Ryu (aka Nezasa Ha), and Oshu Kei. That covers almost all the extant ancient honkyoku. Kyushu is a little more mysterious as we have fewer old sources so it is more difficult to trace - but it is anyhow clear there is this overall trend, and adding breaths before nayashi in Kinko Ryu is a part of that trend.



Thank you Justin for the explanation. I am really surprised. I stand corrected. All that differnces from school to school! Confusing.