Antonio Enzan
Professional Member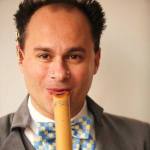 Offline



Joined: 21 May 2014
Posts: 2


Localisation: Madrid
Posted: 2015-03-01, 03:00

 

   Post subject: Workshop and Master Class of Japanese Contemporary Music

---



I would like to announce two shakuhachi events that will be held in Haarlem, The Netherlands on next April 2015.

One of them will be a workshop master class of Japanese contemporary music and the other one will be a concert
of Japanese music of the 20th century. Please see details below:





★ April 18th - 19th 2015

Workshop and Master Class of Japanese Contemporary Music
In Haarlem, Netherlands by Antonio Enzan Olías.

Saturday 18th Intermadiate level
from 10:30 to 12:30 and from 13:30 to 16:00
Pieces: Ten I "Yamamoto Hôzan",
Shizuka Naru Toki "Yohji Sawada".
The teacher will provide the scores in Kinko notation.
Participation fee: 50€

Sunday 19th Advanced level
from 10:30 to 12:30 and from 13:30 to 16:00
Piece: Ginyu "Kineya Seiho".
The teacher will provide the scores in Kinko notation.
Participation fee: 60€
Participation fee for the two workshops + concert: 100€
Registration fee for listeners: 20€ per workshop
Regular concert visitors: 15€

★ Saturday, April 18th 2015
Japanese Music of the 20th Century
Pieces of Nagasawa, Yoshizaki, Sawada, Sawai
Antonio Enzan Olías: shakuhachi
Rijndert van Woudenberg: guitar
Midori Conneman-Maeno: Piano
Concert starts at 20:00 – Open from 19:00
All the events will be held at the following address:

★ Centre of Anthroposophical Care
Lievegoed – De Borgstichting, Vuurtonstraat 1A, 2034 KL Haarlem
Due to limited seats for the concert reservations are required
Registrations via: verdoold2@kpnplanet.nl or phone: 0182-373396

★ Musicians Profiles:

Antonio Enzan Olias – shakuhachi

Antonio Enzan Olías has studied under the direction of the best shakuhachi masters. In classic styles he studied with Tanaka Komei, Etsuzan Fujiyoshi. Modern and Contemporary music with Teruhisa Fukuda, Kuniyoshi Sugawara and Tanabe Shôzan. In 2011 Etsuzan Fujiyoshi sensei awarded him with the professional name Saiho Enzan ·西方炎山· that means Fire Mountain from the West. In 2014 Teruhisa Fukuda awarded him with the Dai Shihan Menjo "Grand Shakuhachi Master" license.

Rijndert van Woudenberg - guitar

Rijndert van Woudenberg (1967) is composer and guitarplayer. He studied classical guitar with Lex Eisenhardt and jazz guitar with Hans Kunneman. He is founder and artistic director of the 'Via Nobel' foundation and the 'Music in Amsterdam' private music-academy. Since his opera 'Maybe Tomorrow' (2009) was premiered in Tokyo, he's living also partly in Japan and doing research at the Japanese traditional music for his opera 'Deshima', which will be premiered in 2016 at Nagasaki.
For further information: www.rijndertvanwoudenberg.com

Midori Conneman-Maeno - piano

Midori Conneman-Maeno is born in Tokyo (Japan). She studied piano with Henk Ekkel at the Conservatorium of Utrecht and carillon with Arie Abbenes at the Dutch Carillon Academy of Amersfoort. In 2000 she became 3dh at the International Carillon Competition of Oudenaarde (Belgium). As freelance-carillonist she's regularly to be heard through the Netherlands, but also in other European countries.
At 2004 she started her own private music-school at her hometown Waddinxveen. From 2012 she is part of the duo 'Futari', specializing in modern Japanese chambermusic together with the Dutch shakuhachi-player Joke Verdoold.