kjell159
Member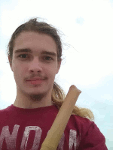 Offline



Joined: 25 Oct 2014
Posts: 19


Localisation: Belgium
Posted: 2016-10-09, 09:27

 

   Post subject: Reverb on shakuhachi

---



I could only find little information on this subject. The only thing I know so far is that a good convolution type of reverb is better for shakuhachi because it sounds more natural.

Is that true?
What kind of impulse response do people with experience like and what kind settings?
If you can be even more accurate, in live vs recording environments?
I like the reverb on this track, it sounds more like a small room (big bathroom, small hall/chamber): https://www.youtube.com/watch?v=Y4ttPlAE620
How can I get to the ballpark of achieving a similar tone?


I guess it remains a matter of taste/trial and error/what sound you're going for?
But any kind of tips, experience would be great!

(A lot of question marks but it could become a nice conversation. )
_________________
If a drum sounds in a forest,
record it.