CharlesKoeppen
Member





Offline



Joined: 22 Mar 2011
Posts: 103


Localisation: ny usa
Posted: 2013-01-17, 18:23

 

   Post subject: New Myspace

---

www.myspace.com like the old days, but don't expect to see what you did back then. A little difficult to figure out, but I found it worth while. I had to create a new account because I forgot my password and didn't see a way to reset it.
_________________

Fiona Dawes
Member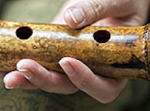 Offline



Joined: 02 Apr 2011
Posts: 54


Localisation: Canberra
Posted: 2013-01-20, 01:51

 

   Post subject: New Myspace

---

Hi Charles,

I checked out myspace recently and was surprised, the 'radio' option appealed to me. Shakuhachi radio. I typed 'Shakuhachi' and found a gold mine. Your my-space profile is quiet. I can relate, passwords are so much clutter, what if you had a password minder? like a personal trainer, a personal trainer and password rememberer.

Cheers, for now.